This age of technology has revolutionized the whole world. Everything has become digitalized and the trends have changed in every field of life. Even the businesses have adopted latest means and technologies in order to maintain their professional efficiency and credibility. Among other things, the ways of communications have also been changed. Now more and more businesses prefer to use VoIP phones instead of landlines.
The landlines are no longer required as we have a much better, faster and more reliable means of communication. Landline phones are now classified as an old, traditional and comparatively slower way of making phone calls. The current fast-paced world needs something more advanced with improved quality and enhanced features. Therefore, businesses choose VoIP over the other. It has a number of features that make it more desirable and preferable.
A recent study reveals that a business (with thirty phone users) switched to VoIP and reaped $1200 in just one month. Interestingly, a number of people using VoIP service will reach to one billion by the end of the year 2017.
Let's have a look at some of the prominent factors that make VoIP a smart choice.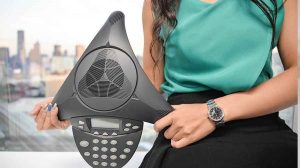 Features
The use of VoIP provides several advanced features that can be very beneficial for your business. It offers a virtual receptionist, three-digit dialing, automatic call forward and a lot more. You can use these and some other features on multiple devices and across different office locations.
If you compare this to the landline phones, you can feel the difference. The traditional telephone sets can provide nothing more than the basic features. Therefore, in order to meet the present age's needs, businesses go for VoIP.
Technology
The upgrade of technology is necessary if you want to be on the top.  The digital communication is rapidly gaining popularity and people see it as an opportunity to make their day to day communication seamless and flawless. Its integration in businesses is even more important and they prefer to use this internet driven technology over the phone sets run by a couple of copper wires. It would not be wrong to say that the digital infrastructure is a key to improved and more stable communication.
Only 1 in 208 respondents had an issue with quality.
Reliability
Those who are running their own business or are working in some office would have an idea that how important the daily phone calls are. Some are very urgent and you cannot afford to drop them. Therefore, in any office setup, to have a seamless connection is important. The VoIP is considered to be a reliable service provided you have a high-speed internet connection.  Some suggest that the landline service is more reliable but if your internet is working properly and the bandwidth is appropriate, you will have no trouble with your VoIP calls.
Price
This is an important factor and one of the major reasons why businesses go for VoIP. The cost of VoIP service is much less as compared to the other one.  Using landline phones requires multiple connections for the offices that can cost you a fortune. You may also need to buy Private Branch Exchange for that which is very expensive. On the other hand, selection of VoIP is an inexpensive option.
Therefore the majority of the existing businesses are replacing their landline services with the latest technology VoIP service. Those who switch to VoIP save between 50 to 75 percent and that is commendable. According to some reports, about 31 percent of total businesses use VoIP because of its enhanced productivity and cost-effective nature.